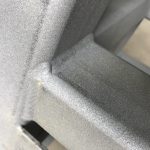 Visual Testing (VT) is a versatile inspection method used to evaluate the condition or quality of an weld.
VT requires good vision, lighting and the knowledge of what to look for. VT is often enhanced through the use of ancillary equipment, ranging from low power magnifying glasses.
This inspection method is adaptable, inexpensive and usually does not require specialist equipment. VT can identify where a failure is most likely to occur and/or when failure has commenced.
VT can be combined with other methods of NDT to identify flaws in including structure and other industrial sectors.